Guidelines for application
---
Deadline for works submission
Tue. 9 October 2018
Deliverable
- VR data created via UC-win/Road (script is required to be created and the work is needed to be stored in media such as CD-ROM and DVD)
- Overview of VR data (up to 150 words) and how to operate the data
Where to deliver the data
Please tell your contact person of FORUM8 staff and send it to him/her.
Copyright
All contents of the awarded VR data is the copyright of each applicants.
The submitted VR data will not be distributed, but FORUM8 has a right to use the data and works, edit and reproduce the images and videos etc. and post or introduce it on website, magazines, books, and newspaper etc. as a sales activity or an advertisement as a secondary user of VR data. Please be forewarned.
Inquiries for the application
Please tell your contact person of FORUM8 staff.
Meeting for selecting
nomination works
Nomination works Nominated works will be decided on Tue. 16 October 2018.
Meeting for selecting nomination works on Tue. 16 October 2018
Flow of Contest
---
Tue. 9 Oct. 2018 Deadline for works submission
Deliverable
- VR data created via UC-win/Road (script is required to be created and the work is needed to be stored in media such as CD-ROM and DVD etc.)
- Overview of VR data (up to 150 words) and how to operate the data
Where to deliver the data
Please tell your contact person of FORUM8 staff and send it to him/her.
Tue. 16 Oct. 2018
Meeting for selecting nomination works
Fri. 2 Nov. -
Sun. 11 Nov. 2018
Period of public voting on cloud
Tue. 13 Nov. 2018 Examining Meeting at FORUM8 Tokyo head office MAP
Meeting for selecting nomination works
The judgment will be performed by 30% of public voting, 70% of voting from judging committee based on the ranking point and ranking point for special awards.
Wed. 14 Nov. 2018
Shinagawa INTERCITY Hall
MAP
Award Ceremony of the 17th 3DVR Simulation Contest on Cloud
■Grand Prix
■Exellence Award
■Idea Award
■Essence Award
■Judge's Special Award
■Nomination Award
No dual recipients
| | |
| --- | --- |
|   | Profile of Judging Committee |
Mr. Fumio Seki
Professor of Engineering department, Nihon University


---

After graduating the department of science and engineering, Nihon University, he joined Design Planning office for civil design of Taisei Corporation and has been engaged in design etc. for road structure, river, harbor and lecture etc. Appointed in the current position since 2011.
Mr. Hiroo Kasagi
Representative of NPO Chiikizukuri Kobo


---

Director of Japan Society for Impact Assessment, director of Laboratory of Autonomy Problem, part-time instructor of Nagano University, CEO of Kizakiko Hot Spring Development Co., Ltd. Councilor of Omachi Kita high school. Author of some books. Won the prize of Minister for the Environment for his activity of global warming in 2005.
Mr. Tatsuoki Inagaki
Director of Pave & Road How-To Way Technology Association


---

Holding a post of information technology manager at Road Management Technology Center and currently taking on a director of Pave & Road How-To Way Technology Association. Author of some books about pavement engineering and road engineering.
He is engaged in improvement of technology of road and pavement and promotion of research development.
Related Products
---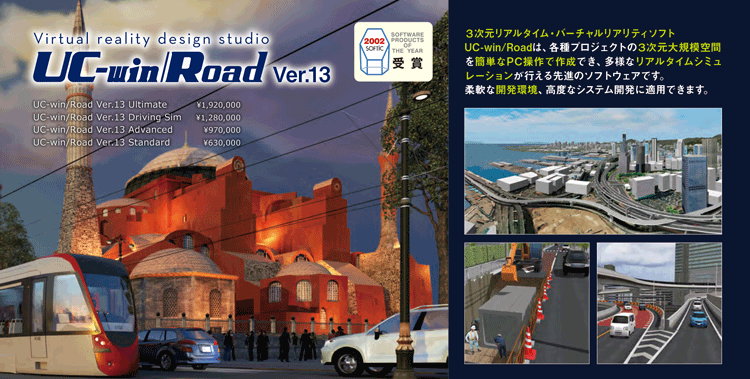 | | |
| --- | --- |
| | 64bit Native support |

●Improvement of road modeling
Enhancement of "Road Section Details"
3D preview is updated dynamically.
Edit result can be checked instantly.
A flexible designing of carriageway




●Zone function
Free range definition
various calculation and operation
Left: forest creation
Right: block and building, area calculation

Ver.13 New features

| | |
| --- | --- |
| | Simulation functions |

●Replay plugin
Addition of sound recording, auto save, search of replay file
●Cluster system
- Camera data transmission -
●Customization of each scenario
●Weather expression
- Fluttering leaves and clothes
- Meter setting for Mist: Linear




Enhancement of
device linkage

| | |
| --- | --- |
| | Earthwork volume calculation |

Calculate approximate volume of earthwork by using the 3D shape of roads and terrains created in the software
  Switch by 1 click
Soil calculation setting

Section editor / Dynamic genration of default section


---
VR-Cloud® is a consensus building solution which uses 3D and VR on a cloud server. With only internet access environment, even thin client would be able to operate the VR space by web browser.


■VR-Cloud® Collaboration
Advanced VR which supports consensus formation on cloud, such as 3D bulltin board function and annotation function, etc. is possible.
| | | | |
| --- | --- | --- | --- |
| | | | |
| Landscape evaluation | Annotation function | 3D icons | Contents viewer |
Case study: "Mizuki Shigeru Road x VR-Cloud® Ver6.1"

In a renewal plan of Mizuki Shigeru Road promoted in Sakaiminato city, VR data of the concrete plan is created and shown to persons concerned and citizens for PR and a consensus building of the design plan. The VR-Cloud® is used for a remote design meeting by sharing the data.

by Tomohiro Fukuda laboratory of environment and energy engineering, Graduate school of Osaka University
| | |
| --- | --- |
|   | Introduction of the past awarded works |